Undrar om det finns NÅGON DUMBOLL som går på sånt här nu för tiden:
FEDEX COURIER SERVICE, NIGERIA:
Dear Customer, We have been waiting for you to contact us for the delivery of your cheque of ($688,000.00) . We want you to know that your package has been with us for the past few weeks now and we are waiting for your confirmation of this message so that we can deliver the Cheque to you. The delivery charges, Insurance Premium and Clearance Certificate Fee has been paid by the sender.
The only money you will send to us is for Security Keeping Fee of the Cheque and the package will be delivered to your postal Address in your country. The Security keeping fee so far is $296.00 U.S.D (Two Hundred And Ninety Six US Dollars) only being Security Keeping Fee of the Courier Company. Again, don't be deceived by anybody to pay any other money except $296.00 U.S.D (Two Hundred And Ninety Six US Dollars).
As soon as your details are received, our delivery team will give you the necessary payment procedure so that you can effect the payment for the Security Keeping Fees. As soon as they confirm your payment receipt of $296.00 U.S.D (Two Hundred And Ninety Six US Dollars), they will not hesitate to dispatch your package as well as the attached certificate and the letter to your residence. It will only take 24 hours for delivery.Note that we were instructed to email you, due to the high priority of your package we had to inform you as your sender left us with no proper details of himself.
Please send us your complete Names, Address and Phone Number to our Customer Care Officer: …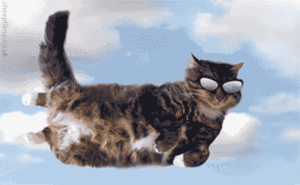 Nog för att man svävar i det blå ibland, men HUR KORKADE saker som helst går man ju bara inte på!?? I synnerhet inte när de mailar detta till en katt!?