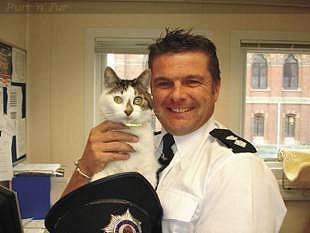 Tro det om ni vill, men i London finns en PC – alltså en Police Cat:
Police at a north London railway station have got mice running scared – after recruiting a 13-year-old cat. Tizer was adopted by British Transport Police (BTP) from the Cats Protection charity in September and inducted into the force as an honorary constable. In his role as the Chief Mouser Pc Tizer walks around King's Cross rail station to keep it rodent-free. An "essential member" of the team, he has unfettered access to all areas and shares an office with a senior officer. 'Playing fetch' Insp Roy Sloane, who enlisted the tabby, said: "Pc Tizer is already an essential member of the team. Since we got him we haven't seen any mice in the building at all… Prior to his arrival we were spending a fortune on pest control and it wasn't really working." Insp Sloane said he visited the charity's adoption centre in north London with the aim of finding a cat to clean up the station's rodent problem. He met Tizer, who arrived at the centre in August after his owner died. Insp Sloane, who shares his office with Pc Tizer, added that his feline colleague helps other officers "de-stress" and has given a boost to the force's morale. "Everyone is always asking after him, and he is probably the most popular member of staff" he said. Cats Protection Adoption Centre acting deputy manager Alex Davies said: "He loves being around people, and likes nothing more than playing fetch with his toy spider."
Now an honorary constable, in his off-duty time PC Tizer shares an office with a senior human, Inspector Roy Sloane (right), although he has the run of the three-storey police building and, according to Insp. Sloane, is 'spoiled rotten' by the men. He is described as an essential member of the team, and is saving a lot of money previously spent on rodent control — which wasn't working anyway. He wears a high-visibility collar, and one report said one of the officers was making him a matching coat! In addition to his mousing duties, PC Tizer has noticeably improved morale among the police team and his friendly presence helps officers to combat the stresses of their job. He loves people, so the 24-hour-a-day, busy atmosphere of the station seems to suit him well. He has a favourite toy spider that came with him from the adoption centre, and in quieter moments likes nothing better than to have someone play 'fetch and carry' with him. He also likes to have the radio on….
Snyggt jobbat, Tizer!