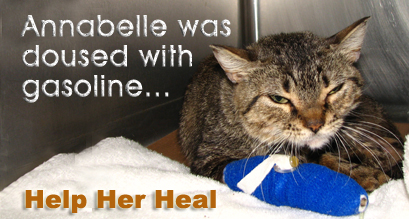 Ett kattöde som berör – läs Annabelles egen berättelse: (Från www.nsalamerica.org/)
I've always heard terrible accounts of animal cruelty, but I never thought I would be in one of those frightening stories. My name is Annabelle, and I am a recent victim of animal cruelty. I am also a member of the Animal League's Help Me Heal Program, which rescues animals in need and nurtures them back to health.
Though I can not recall all of the details, I know I was attacked and beaten…and doused in gasoline until I was drenched. The toxic chemical burned my skin and my eyes. It burned my nose and throat and blurred my vision. Why would anyone drench an innocent cat in gasoline? There could only be one horrific answer to that nightmarish question…
to light me on fire!!!
Petrified, confused and my senses damaged, I fought to escape. I do not know how but I managed to flee to safety. But is anyplace safe when you're saturated in gasoline?
The next thing I remember is waking up at North Shore Animal League America. I was being examined, tested, x-rayed and bathed. I had a safe, warm place to sleep, and I had food and water. I also had many affectionate visitors bringing me soft pillows and blankets too. Everyone here was very kind to me and I felt positive that there would be no abuse or mistreatment in this loving place.
As far as we know now, the gasoline didn't seem to cause any permanent damage. The doctors at the Animal League told me that I need plenty of rest and have to take things slowly for a while. I also need supplements to repair the burns on my skin. As you can imagine, I am a little nervous around people. My trust has been tampered with and I am afraid to let down my guard.
Du kan också se en videosnutt "Escaping the fire" med Annabelle på http://www.nsalamerica.org/help-me-heal/hmh_animals/annabelles-video.html och läsa fler gripande berättelser ur katters inte alltid så lyckliga liv på www.nsalamerica.org/help-me-heal/…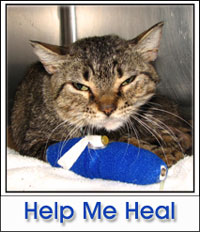 However, the Animal League is taking care of all my behavioral needs too. Right now I'm living in a foster home, but eventually, I will be placed for adoption where I will never be frightened or hurt again.
Without the Help Me Heal Program, I don't know where I would be today – or if I would be alive today. I am so grateful to the kind and caring people that helped to save my life and love animals so much.
Man fäller en tår… inget djurs eller människas liv ska behöva vara så här! Suck…